All Our UK Gigs Folk Magazine and News
WOMAD Festival Review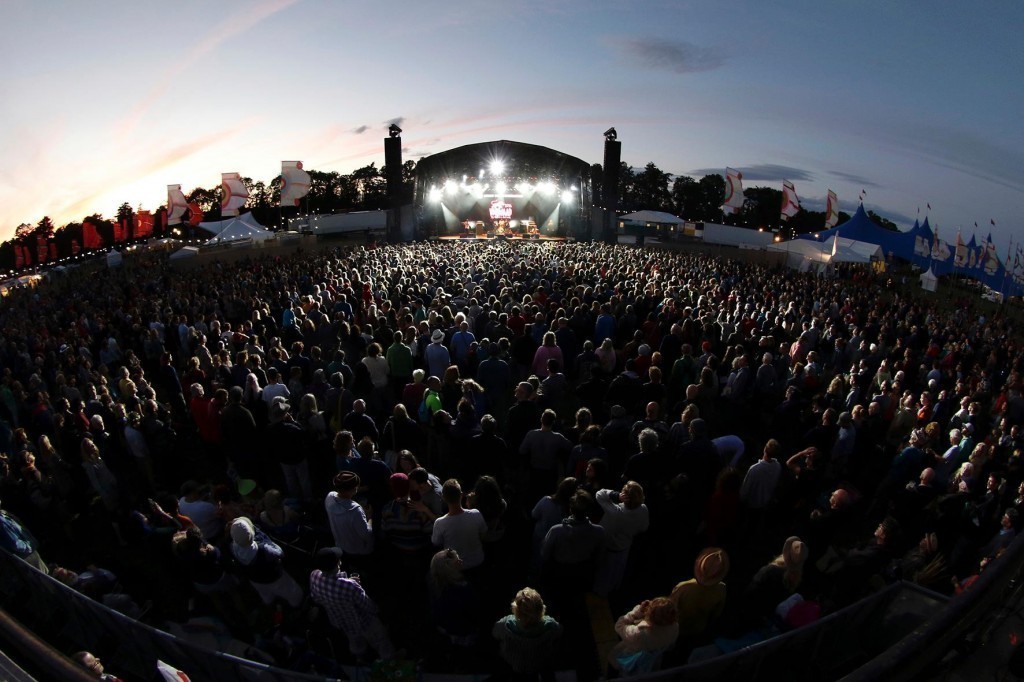 On 29th-30th July the 34th WOMAD was held in Charlton Park, Malmesbury. The World of Music Art and Dance festival has grown substantially since its creation in 1982, both in the UK and its alternative incarnations in Australian and Chile to name a few, attracting 36,000 people to its British branch alone.
While this is a festival with fantastic music, more than anything else it appears to be the atmosphere that draws people back year-after-year, with both guests and staff quoting its laid back and joyous atmosphere as the unique to WOMAD. Certainly this is a festival with a distinct lack of stress, a safety that can be seen in the free wanderings of those of all ages, and friendliness evident in the number of conversations with strangers had throughout the weekend.
This openness of the people goes perfectly with the range of entertainment. From the hilarious laughing yoga held in The World of Wellbeing, to the late night DJ sets, this is one of the few festivals able to claim they have something for everyone. The World of Wellbeing is the biggest entertainment area outside of the arena, a forest filled with alternative therapies, teashops and time capsules. Within this menagerie of interests is the Taste the World Stage, where artists performing during the weekend are invited to share the delicacies of their wide-ranging cultures. This year that included the return of Le Vent du Nord, a Quebeccan folk four piece. In typical Canadian style their recipe was focused on maple syrup, making maple dumplings known as grandeperes (grandfathers). Delicious balls of dough boiled in maple syrup akin to cooking doughnuts. In between the ram shackled, humorous cooking the group played their uplifting take on traditional Canadian music, combining Irish and Scottish with their native French. Played on traditional instruments like the hurdy gurdy, this entertaining combination of food and music got everyone hungry and tapping their feet                                                                      .
The World of Words, WOMAD's poetry, literature and spoken word area hosted everything from talks with authors to open mic poetry. This included a fantastic talk with Petina Gappah, about her novel The Book of Memory, where Jon Snow and Dr. Precious Lunga explored this second novel from the Zimbabwean author. Set in a Zimbabwean prison, Petina's in suppressible humour was clear both in the books description, finding humour in a devastating circumstance, and in her general conversation which ranged from her childhood growing up and fighting for educational excellence in Zimbabwe, to the cultural craze for fantastic hairstyles there (a fabulously varied and creative aspect of their culture as attested to by both women on the stage as well as Jon Snow). A wonderfully interesting conversation that was natural and relaxed on stage.
For those interested in science there was the physics tent where talks and activities were held including a virtual SERN supercollider, and a talk by the ex Doctor Who writer Steven Moffat. For those with children this may be the perfect festival, with a children's and a teen area. Within the children´s area you can leave your child to do arts and crafts and workshops, with loads of children using the things they've learnt and built throughout the weekend in Sunday evening´s parade. There is even something for those interested in shopping, with tens of stalls throughout the arena selling everything from earrings to carpets. Impressively these stalls are reasonably devoid of the usual festival tat. Instead you have the likes of Tribu, a Camden based jewellery shop that offers a beautiful range and have lovely chatty staff. Or Saxaflute, an instrument constructed of bamboo that produces the sound of a sax. Shopping at any festival will never be entirely the most economic choice, but as they go WOMAD keeps things reasonable, and wandering through the stalls is a very pleasant way to spend an afternoon.
The rest of the space in the arena is taken up with food stalls, a steam fayre and, of course, the main music stages. True to the nature of the festival, there was food from all over the world, including fantastic Goan curry, West African dishes and stone baked pizza. There were a variety of stages in the main section of the sight, varying from impressive tents to the open-air stage at the centre, and it was incredibly easy to simply stumble upon acts throughout the weekend, especially whilst munching on a whole host of dishes.
For those who like DJ sets, they had possibly the finest reggae DJ around on Friday night. Jah Shaka played his signature transcendental reggae, capturing the whole crowd in a warm and laid back atmosphere created by his traditional spinning of records. His skill at manipulation and amazing ear for tracks was clear for the joyous trance of the audience, holding out till the last track before slouching off to their tents. This was one legend of many who graced the festival, certainly lived up to his expectation. One who fell somewhat short however was Roots Manuva. Unable to quite grasp the crowd, the classic London rapper was lost and unclear on the stage. There was his great music in amongst this, but sadly it was hard to stay engaged with and many lost interest.
The main stage played host to many of the best acts of the weekend, from the godfather of psychedelic funk George Clinton, to a traditional Korean percussion ensemble in the form of Noreum Machi. The former proved, that despite his age, he could make you dance. The later were a more unlikely hit. Their pounding music was entrancing, as they alternately sailed along the stage matching the crescendos of the piece with spinning dance moves. Made up of many Mr Kim´s, and lead by Mr Kim Juhong, they seamlessly combined old with new, in a performance that encompassed solemn acapella chanting and energetic dancing.
Other highlights of the weekend included the Hackney Colliery Band. This super tight band played a mixture of classic covers like 'Heart Shaped Box', as well as their own original pieces, fully living up to the buzz that has been around them for years. Their set was fun and quirky, proving their worth as more than just a covers band. Contrastingly were people like Ana Tijoux, a Chilean rapper raised in France with a lot to say. Ana claims that it is on stage that she truly feels 'emancipation', that  'the words take on a life of their own' so it was no surprised that she owned the stage. There is an emphasis on making people dance, and much of WOMAD's music does, the safe and free environment encouraging even those normally shy to get to their feet. Pat Thomas is a prime example of that, playing funky Ghanaian tunes. Officially called Pat Thomas & Kwashibu Area Band, he directed brass and walking bass around his vocals, giving everyone in the band their moment. This highlife singer has returned to make new music and share it with the world, and he's definitely one to keep an eye on as he releases a new album soon.
This is just a small amount of all the wonderful things that are going on at WOMAD, a festival that seems to have no bad reviews. For everyone looking to discover new music, and new loves, this is a perfect, happy weekend.
Written by Molly Lempriere